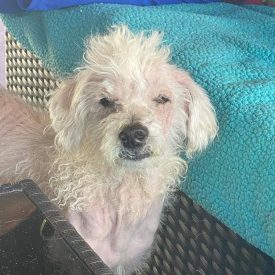 Twinkle
Twinkle is 5-6 yrs of age, poodle mix, non-shedding and 15lbs of LOVE! Fantastic personality.
Does not like dogs in her face but she is dog friendly with other small dogs only.
Fenced yard would be a fantastic fit for her.
There is nothing wrong with her coat. This is due to neglect and poor nutrition. She is going to shine like the beautiful twinkle star she is with proper love, care and nutrition.
To meet this sweet Angel please reach out to us at 100plusabandoneddogs@gmail.com
Located in West Palm Beach, FL
We do not ship or transport out of state.