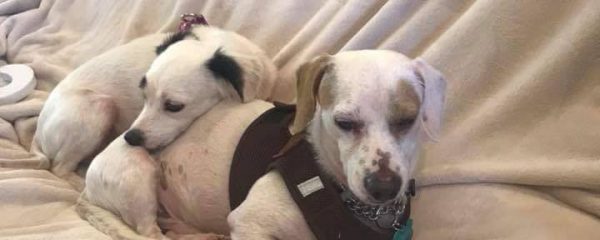 WE WOULD LOVE TO KEEP THESE 2 LOVEBIRDS TOGETHER. THEY HAVE SUCH A SPECIAL BOND. THEY FOUGHT TOGETHER TO SURVIVE ON THE STREETS OF HIALEAH MIAMI HIDING UNDER SEMI TRUCKS SCROUNGING FOR FOOD TO SURVIVE.
AFTER SETTING TRAPS THEY WERE BROUGHT TO SAFETY. SONNY & CHER HAVE TO BE TWO OF THE MOST!!! LOVING & SO VERY SPECIAL DOGS WE HAVE RESCUED.
THEY ARE YOUNG, PERFECT SIZE. SPAYED & NEUTERED. VACCINATED & MICROCHIPPED
SO!!! AFFECTIONATE & AS SWEET AS CAN BE
DOG & CAT FRIENDLY. PLEASE DON'T MAKE US SEPARATE THIS ADORABLE PAIR.
TO INQUIRE ABOUT ADOPTION OR FOSTERING PLEASE CONTACT US AT
100PLUSABANDONEDDOGS@GMAIL.COM
877-506-8100 THEY ARE CURRENTLY IN BOARDING & IT IS KILLING US TO SEE THEM IN A KENNEL ENVIRONMENT.
1 Adoption fee to keep them Together.