Good Morning Peeps…
Raising For The Rescues Fundraiser to benefit 100 Plus Abandoned Dogs of Everglades Florida
November 10th at Revolution Live's Stache VIP Lounge in Downtown Ft Lauderdale.
Get Tickets:Https://www.raisingfortherescues.eventbrite.com
For Info Contact us at raisingfortherescues@gmail.com
If you can not make the event you can still support 100 Plus by Purchasing Raffel Tickets. See Details Below.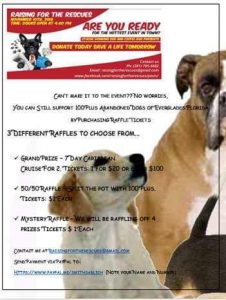 Florida Department of Agriculture CH36663
100PlusAnimalRescue, Inc., 345 E Commercial Blvd, Oakland Park, Florida 33334
Consumer information for 501c3 Charities as required by The Dept of Agriculture
A COPY OF THE OFFICIAL REGISTRATION AND FINANCIAL INFORMATION MAY BE OBTAINED FROM THE DIVISION OF CONSUMER SERVICES BY CALLING TOLL-FREE, WITHIN THE STATE, 1-800-HELPFLA, OR VIA THE INTERNET AT WWW.800HELPFLA.COM.REGISTRATION DOES NOT IMPLY ENDORSEMENT, APPROVAL, OR RECOMMENDATION BY THE STATE.