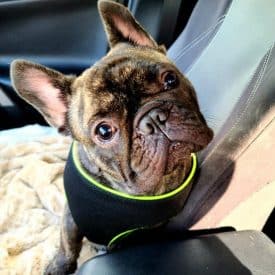 Mario
Mario is a sweet affectionate Frenchie who needs a loving home. He has been diagnosed with autoimmune encephalitis with optic neuritis. Which means the disease has taken over the optic nerve and caused him to lose his eyesight. Sadly there is no cure, only management and his estimated life expectancy is two years. He has been started on Pred and cytosar infusion treatments to keep the disease under control, and potentially bring back some of his eyesight. He is only a baby, under 2yrs of age. WE ARE COMMITTED to him and will over all costs of his treatments so you must be in the Ft Lauderdale area.
To inquire, contact us at 100plusabandoneddogs@gmail.com.
Please include where are you located, number of children and ages, number of current pets and ages, if you have a fenced yard, if you have a pool and work schedules.