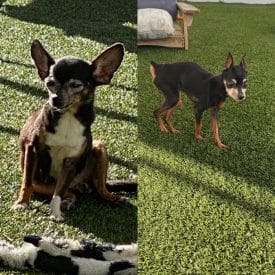 Cosita and Sparky
This tiny bonded pair is Cosita and Sparky. Must stay together!
Sparky is a 12yr old, 6lb Male Miniature Pinschcer.
Cosita is a 12yr old, 6lb female Chihuahua.
Both were surrendered by their owner to the local kill shelter. They are in need of a loving, quiet home to live out their golden years.
Must have a fenced yard as they do not walk on leashes.
Located in the Ft Lauderdale area.
To inquire, please contact us at 100plusabandoneddogs@gmail.com.
We do not ship or transport.