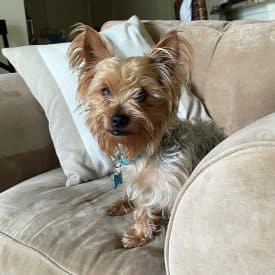 Beckley
Beckley is a perfect 7lb male Yorkie who loves to snuggle and cuddle. He is 2 years of age, microchipped, vaccinated and neutered.
He needs a family who is home throughout the day and night as he does not do well being alone. Another small dog for him to play with would be best.
Beckley does love to dart out an open door so he needs someone who will pay sharp attention to him. No small children please.
Beckley needs a fenced-in yard, loves to play outside and to go on long walks. Loves going around town with his person. He also likes meeting new people and good with other friendly dogs.
Located in the Ft Lauderdale area.
To inquire, please contact us at 100PlusAbandonedDogs@gmail.com.
We do not ship or transport.