New Volunteer Walking Orientation on Sunday June 24th, 2018 at 10am. VCA Imperial Point Animal Hospital, 1574 E Commercial Blvd, Oakland Park. Please arrive 10 minutes early so we can start on time.
Must be able to do the following-
-Lift 30 lbs
-Feel comfortable walking & controlling a 50lb or more dog
-Be able to react appropriately in an emergency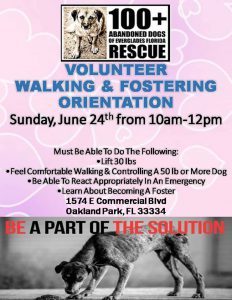 Look forward to meeting everyone. There is a limited amount of spaces. Please RSVP below if you are planning to attend.
The doggies are counting on you!