Deerfield Beach / Boca Raton, Florida
Boogie – Black/Tan – Yorkie Mix – Male – 12 lbs.
**Car Accident on I-95 & North of Exit 42**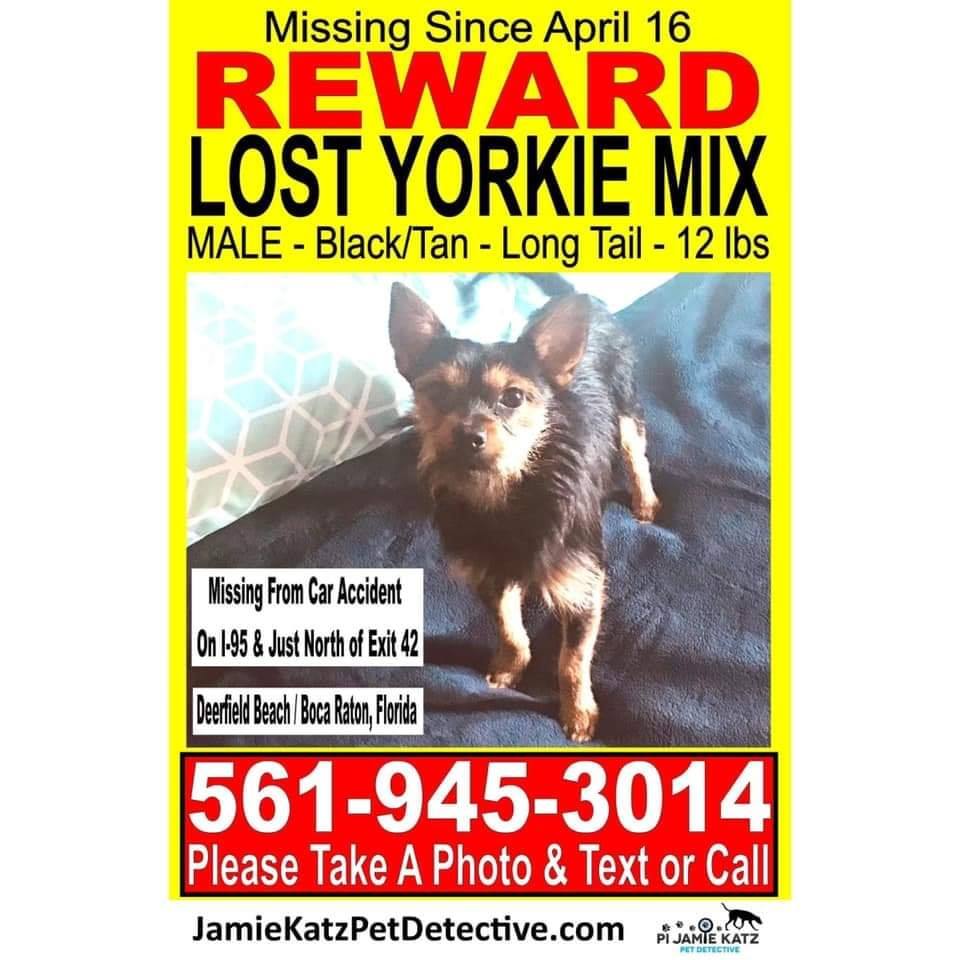 Boogie went missing April 16th in Deerfield Beach / Boca Raton, FL after a car accident on I-95, just north of Exit 42 (W Hillsboro Blvd). Once the accident occurred, Boogie ran south in the northbound lane and may have crawled into a tunnel in a construction area located in the middle median of interstate 95. Boogie was just adopted by his new family 30 minutes prior to the accident. The accident happened halfway between his old house (in North Miami & and his new home in West Palm Beach). Boogie is missing in an area he is unfamiliar with. Boogie is a 2-year-old, intact, male, black/tan, no microchip, Yorkshire Terrier mix and weighs 12 lbs. Boogie is said to be a friendly guy but may be scared due to the car accident. Please do Not chase Boogie if sighted and runs from you, just take a photo, keep eyes on him and call right away. There is a reward for information leading to Boogie's safe return, thank you all.
#pijamiekatz
#jamiekatzpetdetective
#petdetective
#founddog
#lostdog
#missing
#yorkielost
#yorkiefound
#yorkshireterrier
#lostdogsofinstagram
#lostyorkiesofinstagram
#lostandfounddog
#lost
#found
#lostyorkie
#yorkie
#foundyorkie
#yorkiemix
#33441
#autoaccident
#carcrash
#caraccident
#interstate95
#hillsboroblvd
#deerfieldbeach
#deerfieldbeachfl
#bocaraton
#bocaratonfl
#broward
#browardcounty
#palmbeach
#palmbeachcounty
#southflorida
#southfl
#florida
#fl