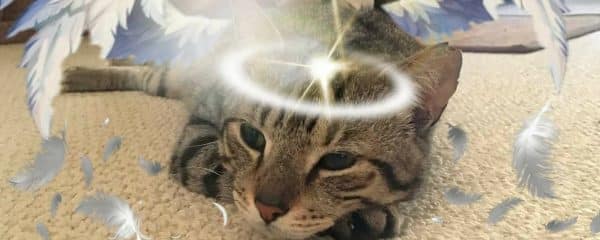 Our hearts are shattered into a million pieces this morning. Heaven received a new angel this morning. This is the gut wrenching part of rescue. Murphy ( formerly know as Mo) was saved by our wonderful volunteer Natasha Webster. Once he was saved we would find out that Murphy was positive for the feline leukemia. The plea went out for a special angel to give Murphy a home of his own. Our amazing friend & 100+ supporter Vinnie StJohn was Murphy's angel. Murphy was home and knew love.Suddenly, Murphy went into distress very early this morning when his lungs filled with fluid & unable to breath. We had to release Murphy from suffering and he was called home. My heart is so broken & shattered for Vinnie and our entire 100+ family. This is the sucker punch that leaves you winded. Thank you Stacey for being there as Murphy crossed. Vinnie,
Thank you for loving our Murphy. He knew love in the end. His book of life closed knowing only love.
Rest easy among the breezes. Float high & free. You were so loved.