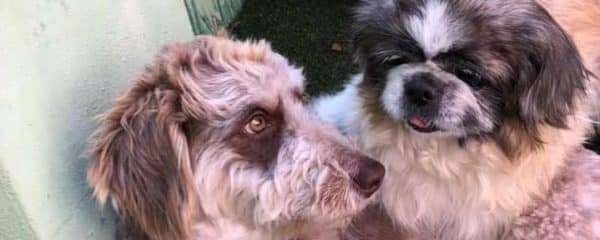 These two little beautiful souls were found abandoned in the rural streets of Miami. Matted neglected & hungry. They leaned on each other for love and support. The bond and the love between these two is Real. Who are we to separate them break their spirits and pull them apart? Bandit on the left is approximately one year of age a doodle mix 35 lbs, Little Betty Boop is approximately 5 years of age and 10 lb. When we separate the two there's spirits are broken. When we bring them back to each other they come alive. Again who are we two separate such a bonded pair? We are asking for your help. We are going to do our very best to keep these two together. Please remember while doing so they are in boarding in a room in an animal hospital. Bandit was neutered yesterday Betty Boop waited patiently for her friend to come back to her after surgery. They cuddled next to each other throughout the night for comfort. Please there must be that special Angel out there that can offer this bonded pair a forever loving home together. We will do our best to keep them together but it truly is up to all of you. They cannot live in this Animal Hospital they need to find a forever home. Please hit the share button and please consider opening your home and your heart to Bandit and Betty Boop our bonded pair.
To offer them a loving home or Foster, please contact us at 100plusabandoneddogs@gmail.com
877-506-8100
100 + Abandoned dogs of Everglades Florida
Located in Fort Lauderdale FL. They are Nothing but Love.