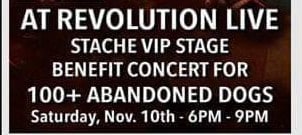 It is Time to Get your Tickets for the Benefit Concert that will blow your mind. All proceeds support 100 Plus Abandoned Dogs of Everglades Florida.
Amazing Talent Featuring Paxti Pastor All-Star Band, DJ Citizen Jane, American Idol Christina Christian and much more.
*** INVITE ALL YOUR FRIENDS AND MAKE THIS A PARTY YOU WON"T FORGET!!!!
GET TICKETS HERE:
https://raisingfortherescues.eventbrite.com
More Info: raisingforthererescues@gmail.com
RAISING FOR THE RESCUES
NOVEMBER 10TH YOU DON'T WANT TO MISS THIS EVENT FOR 100 + ABANDONED DOGS OF EVERGLADES FLORIDA.