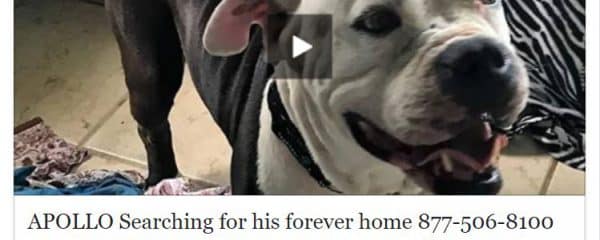 HE IS SO VERY SPECIAL PLEASE SHARE TO HELP FIND APOLLO HIS FOREVER HOME
877-506-8100. 100PLUSABANDONEDDOGS@GMAIL.COM
It Breaks our hearts to think what this sweet boy has endured alone Lived his life as a Guard Dog 3-4 years outside in Liberty city Miami no shelter in Filth Alone! He is so loving & so grateful. Nothing but love from here on out is our promise to Apollo.
https://www.magisto.com/video/LlIfPQFaBisgARZiCzE?c=o&l=vsm&o=a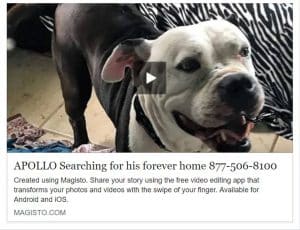 We Desperately need your help by donating
There is Truly No greater feeling Please Donate Here Paypal. https://www.paypal.com/cgi-bin/webscr…
TO DONATE DIRECTLY TO THE ANIMAL HOSPITAL 954-771-0156 MENTION APOLLO & 100 +
TO OFFER ANY ASSISTANCE IN FOSTERING PLEASE CONTACT US AT 100PLUSABANDONEDDOGS@GMAIL.COM
877-506-8100
Florida Department of Agriculture CH36663100 plus Animal Rescue Inc.300 E Oakland Park Blvd. #401 Wilton Manors Florida 33334
Consumer information for 501c3 Charities as required by The Dept of Agriculture
A COPY OF THE OFFICIAL REGISTRATION AND FINANCIAL INFORMATION MAY BE OBTAINED FROM THE DIVISION OF CONSUMER SERVICES BY CALLING TOLL-FREE, WITHIN THE STATE, 1-800-HELPFLA, OR VIA THE INTERNET AT WWW.800HELPFLA.COM.REGISTRATION DOES NOT IMPLY ENDORSEMENT, APPROVAL, OR RECOMMENDATION BY THE STATE