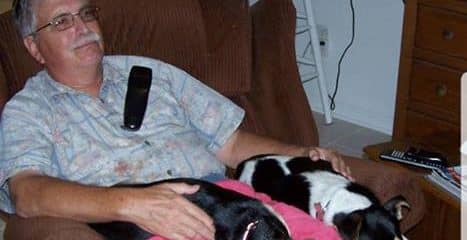 UPDATE FROM MARTHA & ARTHUR WHO RECENTLY ADOPTED OUR BONDED PAIR MOMMY REIGN & HER BABY JOEY.
We are so very happy with Reign and Joey!!!!!!!!!!!!!!!!!! We want to thank everyone that played a part in getting these wonderful doggies into our lives, from the time they were brought out of the Redlands to being brought to our house on Saturday. It was just a series of miracles by God that took many twists and turns, from me finding your group on the internet around Oct. or Nov. 2017 before our dog passed away in Feb. of 2018. I thought Reign and Joey had been adopted and when I saw the video Amy made with Leslie and Kevin on Sept. 18, 2018 at The Rescue House I just knew we had to have them. I had remembered the sweet video back in Nov. of Joey stealing all the treats from Reign, it just had stuck in my mind back then, how cute and loveable those two were.
As I have gotten older I have become to believe almost everyone has the attitude of "What can you do for me?" Amy, Carol, Zoey, Leslie, Kevin and this whole group has let me know there are people out there that care greatly. Much of their work goes unseen, but God knows the work they do for his creatures.
I know Leslie was out rescuing Ringo around 10 on Friday night and yet she and Kevin were at my house by 1:45 PM on Saturday (It was about a 5 ½ hour drive to our house). Thank you both for bringing them and keeping them for 9 months. I feel guilty for taking them from you. They are so well trained. They have not had any accidents, they already knew how to play fetch the ball, they are just gentle beings. We have laughed and smiled so much. They love exploring the yard, they enjoyed barking at a squirrel, they run and play until they are just pooped out. I wish you could see them running through the side yard that has all the flowers on boards, it's a maze and they have a ball.
We both thank you and we promise we will take care of these babies the best way we know how forever.