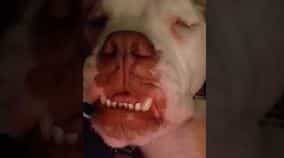 Sadly when he wakes up, he wont have one..please help us change that!! He is at a weekend getaway with me again this weekend, and he is an absolute angel!! It absolutely KILLS me to bring him back to boarding on Mondays!! (No I can not keep him, I have my 2 dogs Gunner and Cloud, and I'm fostering Tanya) Albert needs to be the king of his castle! And he deserves that after all hes been through. Please help us get Albert home!
☆Must be the only pet in the home. Must work from home or have flexible schedule due to his feeding schedule.
Email 100plusabandoneddogs@gmail.com or call 877-506-8100.
100+ Abandoned Dogs of Everglades Florida.